2 weeks of holidays enables me to start on a major project at Wombat Creek Tramways. This time it is the long waited tram barn at the depot. The 'foundations' and the floor were put in place a long time ago. Now I have the time and materials to erect the building.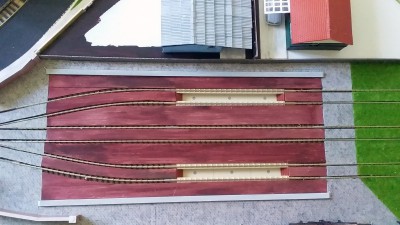 The model is inspired by the former Victorian Railways' tram depot in Elwood. Between 1906 and 1959 VR operated a broad gauge tram line between St. Kilda railway station and Brighton Beach railway station (VR also ran standard gauge trams between Sandringham to Black Rock and Beaumaris). In March 1907 a fire destroyed the barn and the entire fleet, but both the barn and the fleet were rebuilt later the same year. To read more about the Victorian Railways' tram lines go to http://www.hawthorntramdepot.org.au/papers/vrtram.htm
The new barn in Elwood was clad in corrugated iron and featured some very distinctive inward leaning windows, which will be the main feature of my model.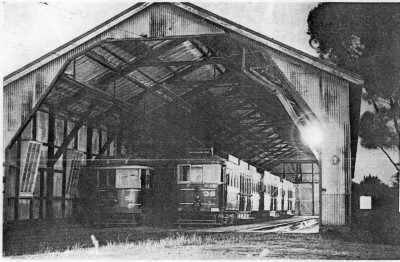 (Archive: Melbourne Tram Museum)
In real life you will attach the wall to the already placed posts and beams, but I have taken a different approach. I have put the walls together, cut out openings for the windows and attached the posts and beams to the finished wall. Instead of working from the inside and out, I have worked from the outside and in!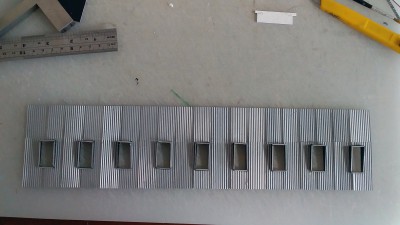 All the posts are slightly longer than the walls allowing them to stick into pre-drilled holes in the foundation. Which allows me to move the building from the layout – giving me easy access to the building itself and the interior.
So far walls and windows are finished. Since the ends of the barn will be quite open for glances of the interior I have modelled the window frames on both sides with the help of a white paint marker straight onto clear plastic. It works quite well.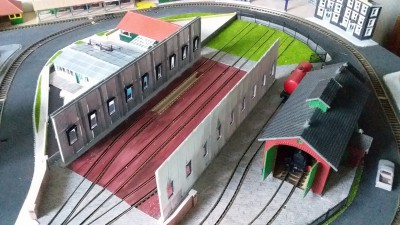 Next step is the rafters and the roof. This time I will do it the 'proper' way around – first getting the rafters up and later lay the roof.
What has happened to the fibro houses? Well, literally the are both in the shadow of the barn! But both houses are progressing well. Whilst I am waiting for paint or glue to dry on the barn I work on the houses. They are both under roof and just need gutters, downpipes and supports under the carports.