Most model train and tram
layouts will have a backside and Wombat Creek Tramways is no
different. The layout is designed to be viewed from the 'front'. As a
result some parts of the buildings will be hidden from view, This is
the case of the shop fronts along the western side of East Street. So
do you leave out details.
Well, I haven't! So the
fronts of Manning & Co., Goldstein and Simpson Lee & Co. are
fairly detailed. Another problem with building near the back of the
layout is limited space to take photos. With the use of a mobile
phone it has been possible even the photos aren't to great.
As with the rest of the
buildings in the area the front of the fashion shop and the furniture
shop is inspired by shop fronts in Queen Street, Warragul.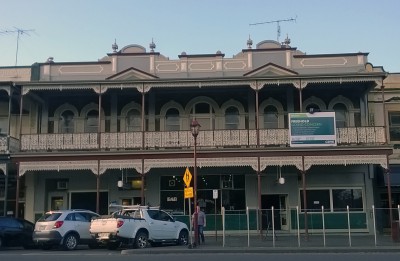 (Large photo)
The name 'Manning &
Co.' relates to a photo from Museums
Victoria Collections
showing a fashion shop of that name in Bendigo 1890. The business is
also mentioned in a newspaper
article after a fire in 1889.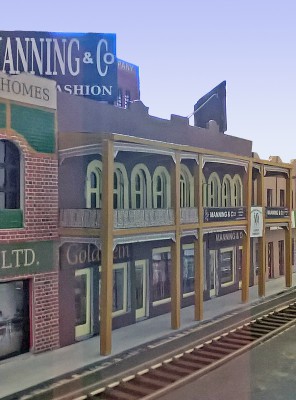 'Simpson Lee & Co.'
was the name of a home and furniture business in Sydney in the 1930's
and 40's. The sold almost anything needed for the household of the
time.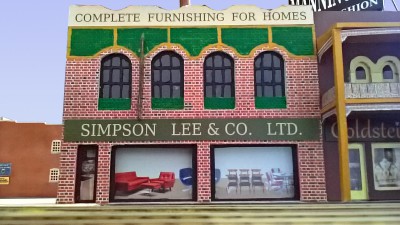 If detailing shop fronts
facing away from the viewer is somewhat wasted, it makes more sense
to detail the back of the buildings and not the least the surrounds
of the buildings. This haven't be done yet, but it is expected the
'yard' formed by the brewery and the row of shops will full of
interesting details in the future.