Two
new houses are been constructed along the East Street. The are
designed as 'fibro-houses', which later will infamously known for the
use of asbestos cement as a wall material. I have adapted the history
behind the designs from the following website:
http://architecturebulletin.com.au/autumn-2015/a-home-for-every-taste-the-nsw-small-homes-service/
The
Small Homes Service was instigated in Victoria by Robin Boyd and The
Age newspaper in 1947 and later introduced in NSW. The Sydney Morning
Herald and Home Beautiful lobbied to establish a service along
similar lines to that established in Victoria. In New South Wales
building costs had doubled between 1939 and 1946 and building
materials were very hard to get. There was up to a two-year wait for
bricks in some areas with no brickworks.
In
September 1952, designs from the Victorian service were published in
the Sun Herald. The aim was to raise the standard of home design.
Designs were in brick (S/B), brick veneer (S/BV) and timber (S/T).
The total number of designs in September 1956 was about 40.
It
was among the timber house series that the more modern designs could
be found. Despite considerable effort by Bunning to promote modern
architecture the public seemed to prefer the more conservative
designs.
While
the New South Wales service overall may not have been viewed as a
success, the regular publishing of designs had an impact. The
combined living-dining area ‒ initially the result of the need, in
the late forties and early fifties, to plan houses in a compact
manner to meet official size restrictions ‒ became widely accepted.
Living areas opened onto paved terraces. Designs contributed to the
idea of informal living for which Australia is now known
internationally.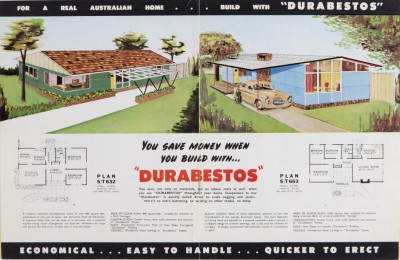 The
designs of the two houses in Wombat Creek are S/T 632 and S/T 663. I
found the designs on a website from
https://sydneylivingmuseums.com.au/post-war-sydney-home-plans-1945-1959
.
The picture shows an original advertisement from 1956. The designs
may be compact but they still take up a fair part of the to 'blocks
of land' next the tramway depot.
Instead
of using the infamous fibre-cement 'Durabestos' I will use cardboard
as the main building material. I will try to keep to the colour
scheme as seen in the advertisement. So far the walls have been cut
and glued together. Next steps are to glue thin strips of paper over
the 'gaps' along the walls and to apply some coats of paints.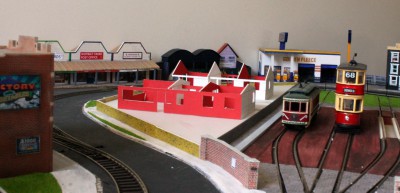 (Large photo)